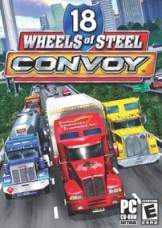 Like its predecessor called 18 Wheels of Steel: Pedal to the Metal, this game was developed by the Czech company SCS Software® and published by Valusoft® in 2005.
The aim of this game is to deliver goods around the United States and Canada, to earn money, to gather prestige and create convoy. Yes, that is true! It is the first trucking game where you can do it!
I must say, the convoy graphics is really very good, especially environment, trucks, trailers, roads and cities! Very realistic and big step in comparison to previous 18 Wheels of Steel series.
The game map was totally rebuilt, allowing us to get a lot fun out from bigger road system. Driving from one city to other one take an hour or more by road. Only Mexico was removed from game map in comparison to Pedal to the Metal.
What is new? SCS Software® did add some new features like driving a fire truck, a bus, a delivery vehicle, etc. in time missions. It looks almost like the Hard Truck 2 game sometimes... The missions will be available if you get right number of game points. To take on a special mission you have to position your truck over the mission icon, press Enter, and follow the on-screen instructions.