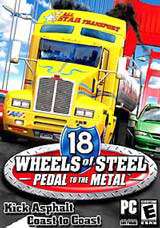 Like its predecessor called 18 Wheels of Steel: Across America, this game is developed by the Czech company SCS Software® and published by Valusoft®.

In 18 Wheels of Steel: Pedal to the Metal, the aim of the game is to make money by delivering cargoes across America. Compete with other truck drivers for prestigious cargoes; keep you boss happy; upgrade your truck; and eventually, form a trucking company and hire other drivers to do the work for you! The game has several operational modes:
Employee Mode
Employee mode takes the hassle of finding new contracts for yourself, and puts it in your bosses hands! Your boss will assign delivery tasks to you, which you should attempt to complete as promptly as possible if you want to keep said boss happy! In this role, you will not be able to pick and choose your cargoes as you wish, nor will you be able to improve or exchange your truck - it belongs to the company - however should you manage to raise $100,000 for yourself, during the course of your deliveries, you will be able to use this cash to become an Owner-Operator.
Owner-Operator Mode
Owner-Operator mode puts you firmly in charge of deciding what goods you wish to deliver, and to which destinations. You can take out loans; you can buy, sell, upgrade, or even downgrade your truck - it belongs to you. You can even keep track of which cargoes you want to deliver - ahead of time - using the Planning feature of your notebook. It's fun to be your own boss!
Company Boss Mode
You must have silver prestige at least to become the boss. Take charge of a fleet of trucks and truck-drivers. Only, you'll have to find these people first, and of course, neither they nor their trucks come free of charge. Deliver your own cargoes whilst managing your company and employees. Become the biggest trucking-empire in the States and beyond!
When the game has loaded, you must choose New Game button and fill in a dialog box with some parameters like: Your Name and Face, Headquarters and Operation Mode. In the beggining game Employee Mode is available only. Now you must set "Game Rules" for your current game like:
Simulate Fatigue
Whilst playing with this enabled, your driver can become tired and experience blackouts, until they are rested.
Enable Police
If you do not wish to be held up or chased by police in the game, disable this.
Enable Timed Jobs
If you do not want to have any penalties for late delivery of cargoes, disable this.
Upgrade Anywhere
Allows you to upgrade your truck at any time and any place in the game.
It is not possible to change any of these rules during the course of gameplay. Press Start button..
Your first cargo job will be displayed to you some seconds after starting the game - in the top-left corner of the screen you will see a green box showing the job assigned to you. In this box, you can see the type of cargo, in this case Tableware. Underneath, there is the company logo of the company from which you will pick up the cargo. Next to the logo, is the city in which the cargo will be e.g. Seattle, and the time from which the cargo will be available for pickup. If the cargo is ready for pickup, you will see the words Awaiting pickup on the box. It is now up to you to locate and pick-up your first cargo.
Take it and have great fun.