Minimum System Requirements are the *very* minimum specs that your computer needs to run the software. If you try to use the program when your computer does not meet the minimum system requirements, you will experience a wide array of unpredictable results.
Minimum:
Operating System: Windows 98/ME/XP with DirectX: 8.1
Processor: Pentium III 800MHz or 100% compatible processor
RAM: 256 Mb
Hard Drive Space: 200/500 MB Free (online/box version)
Drives: 4X CD-ROM
Display: 256 Colors or Higher
Graphics Card: 32 MB 3D Video Accelerator with T&L and DirectX 8.1 compliant video drivers (Recommended: 32 MB 3D accelerator with DirectX 8.1 compliant video drivers)
Sound Card: DirectX 8.1 compatible sound card
Other: Mouse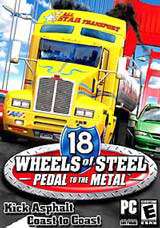 New generation of Prism3D engine is used, with a lot of improvements and total overwrites of several areas.
The game world covers continental US from coast to coast, and several locations in Canada and Mexico.
Border checkpoint included in game
One big map is available in the game. The map is quite bigger than the one in Across America.
The number of cities has increased (30) as well as the mesh of connecting roads, and the resulting world is really huge.
You can choose up to 35 trucks.
You can dispatch 45 cargo types.
The roads more or less is based on real road network.
The hidden roads, short cuts are available.
The improved world editor is once again a part of the game's executable.
Police AI and car AI was rewritten.
Dashboard HUD has "Motor Brake" indicator now.
Eight camera viewpoints.
Weather forecast is included on the map.
Low beam and full beam mode inluded by pressing [L] key.
New physics and collision system is rewritten.
The handling of the trucks has been completely redone for the new game.
You can be an employee driving for another company, and the AI boss would command you around. You can become independent owner-operator in control of your fortune, and you can also progress to become an owner of your own big trucking business with other drivers working for you.
Sleeping time come back but only as an option to switch on/off based on the player's preferences, just as several other simulation features that can be toggled on and off.
Vast majority of the elements in the environment is rebuilt from scratch, so you can indeed expect to run into a whole lot of new things.