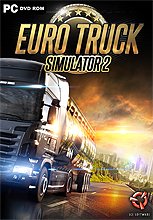 Euro Truck Simulator 2
Available Now
The long awaited new "child" from SCS Company was released in the middle of October. It is the biggest and the famous truck game we awaited from years!
You can buy it at Euro Truck Simulator 2 website directly or visit plenty of warehouses around the world.
It is translated in: English, Česky, Dansk, Deutsch, Eesti, Español, Euskera, Français, Hrvatski, Magyar, Italiano, Lietuviškai, Nederlands, Norsk (bokmål), Polski, Português (Brasil), Português (Portugal), Română, Русский, Slovensky, Slovenščina, Srpski, Српски, Svenska, Suomi, Ślōnskŏ gŏdka, Tiếng Việt, Türkçe, Українська, 日本語, 한국어, 英语, 中文 (Taiwan) languages.
More information on SCS Blog website.